FINALIST IN THE LITERARY FICTION CATEGORY OF THE 2019 INTERNATIONAL BOOK AWARDS
SHORTLISTED FOR THE 2019 FRED KERNER BOOK AWARD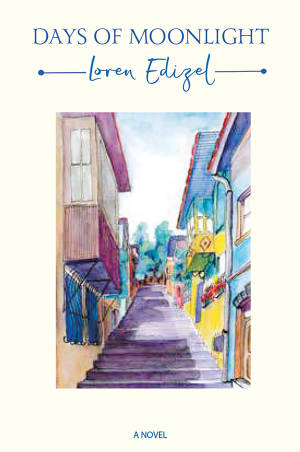 QUESTIONS FOR ANCESTORS by Sheniz Janmohammed, poet, artist
BOOK REVIEW FROM MONTREAL SERAI "More than Moonlight"
BLOG INTERVIEW WITH MAYANK BHATT @ GENERALLY ABOUT BOOKS
LISTEN TO CIUT 98.5FM- HOWL INTERVIEW HERE
LISTEN TO INTERVIEW ON CJRU-ALL MY BOOKS HERE
UPCOMING EVENTS in 2019
Days of Moonlight, a novel
"A beautiful, moving portrayal of the complexities and richness of life, and love gained, lost and re-found--a poetic novel full of visceral imagery. You can hear the clinking of the tea glasses, taste the salt of the Aegean Sea, and see the red-tiled roofs of Izmir. You will be transported to Crete, Turkey, and Canada where past and present comingle in the sensual and often bittersweet power of memory, and become immersed in the stories of strong women, and the women and men they love."
--Melinda Vandenbeld Giles, author of Clara Awake
"Loren Edizel's fiction speaks through the passage of time itself -- the poignancy of what history erases and what only the written word can save. Lovingly written, Days of Moonlight reveals the passionate love and friendship of two women who embody the history and culture of a passing age, and the tender bonds of family and place.
--Carole Giangrande, author of All That Is Solid Melts Into Air
"This is a little gem of a book, full of all the tales that make us and unmake us--real and imagined ones, past and present ones. I am infatuated with the voice of our protagonist Mehtap, at times poignant, at times funny--it is totally unique and at the same time, all of us. It is a story about love, the choices we make and the choices that life makes for us."
--Cecilia Ekbäck, author of Wolf Winter and In the Month of the Midnight Sun
"From the first page, via two simple bracelets, Loren Edizel's Days of Moonlight brings the reader to heartbreakingly real crossroads where desire, family secrets and the legacy of Greco-Turkish conflict all meet--and yet, thanks to the author's concise images and considered style, the novel also succeeds in reading with the dreamy timelessness we love in the greatest myths and fables. It's wonderful."
--Daniel Perry, author of Nobody Looks That Young Here
"Reading this novel was like sliding into a warm bath. It's a luminous work, a love story that spans several decades. There is also much wisdom and insight to be found along the way. Reader, you are in for a treat."
--Morris Berman, author of The Reenchantment of the World
March 31, 2019 Junction Reads at Famous Last Words 5:15 to 7:15 pm
May 29, 2019 Toronto International Festival of Authors- When Women Write 7:30 -8:30 pm
August 14, 2018: In Her Voice Reading Series at Ben McNally Bookstore 6:00pm-8:00pm
September 23, 2018 at 11:00 AM- The Word On the Street Festival, Toronto
Sept 28, 2018-CJRU-All My Books- Radio Interview hosted by Jacky Tuinstra Harrison
October 16, 2018- The Violet Hour Reading Series 7:00-8:30pm at Stock Bar, 1171 Ste Catherine Street East, Montreal
October 18, 2018: Paragraph Bookstore, Montreal 6:00pm - 8:00pm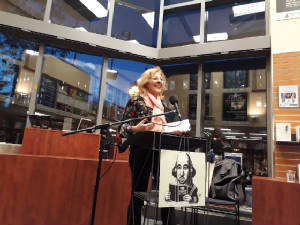 October 25, 2018: Wonderful Women Writers Series hosted by Nora Gold, Deer Park Library in Toronto, 5:15 pm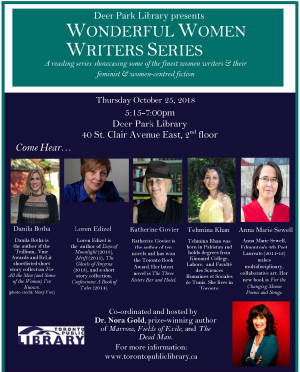 November 5, 2018: Words to the Wise Reading Series 8:00 pm
December 11, 2018: Boneshaker Reading Series at the Gladstone Library Dufferin/Bloor 7:00 pm
"Loren Edizel's writing hums with rich undertones of history, of vanished worlds that live once again through her voice. Alive with a sense of time and place, these poignant tales open our hearts to the painful truth of what it is to be human."-Carole Giangrande, author of Midsummer and Gardener on the Moon
BROWSE AUTHOR PAGES IN
YOU CAN FOLLOW ME ON